You could argue that trail riders are spoilt for choice when it comes to choosing a bike these days. From lightweight single cylinder enduro's to big round the world ADV machines there's a real mix in TRF garages around the country. But whats the right bike for the long distance Iceland trip on challenging trails? Herts TRF member Rupert Jordan thinks he's found just the ticket. The CCM GP450. It's not perfect, but will it be almost perfect enough?
"I'll get straight to the point, this bike is good. Very good. That's an opinion based on just 800 miles of riding, and it comes with a fair few caveats, so salt to taste. Like most bikes, it has a bit of a story. This one begins last year when I signed up for a trip riding and camping around Iceland (organised by Mark Hatto via the UKGSers forum). My original plan was to take my 2016 Africa Twin, but after reading a ride report from a previous trip I started to think that a quarter tonne of bike, fuel and luggage might lose some of its grin factor after dropping it in sand, gravel or a river for the fiftieth time.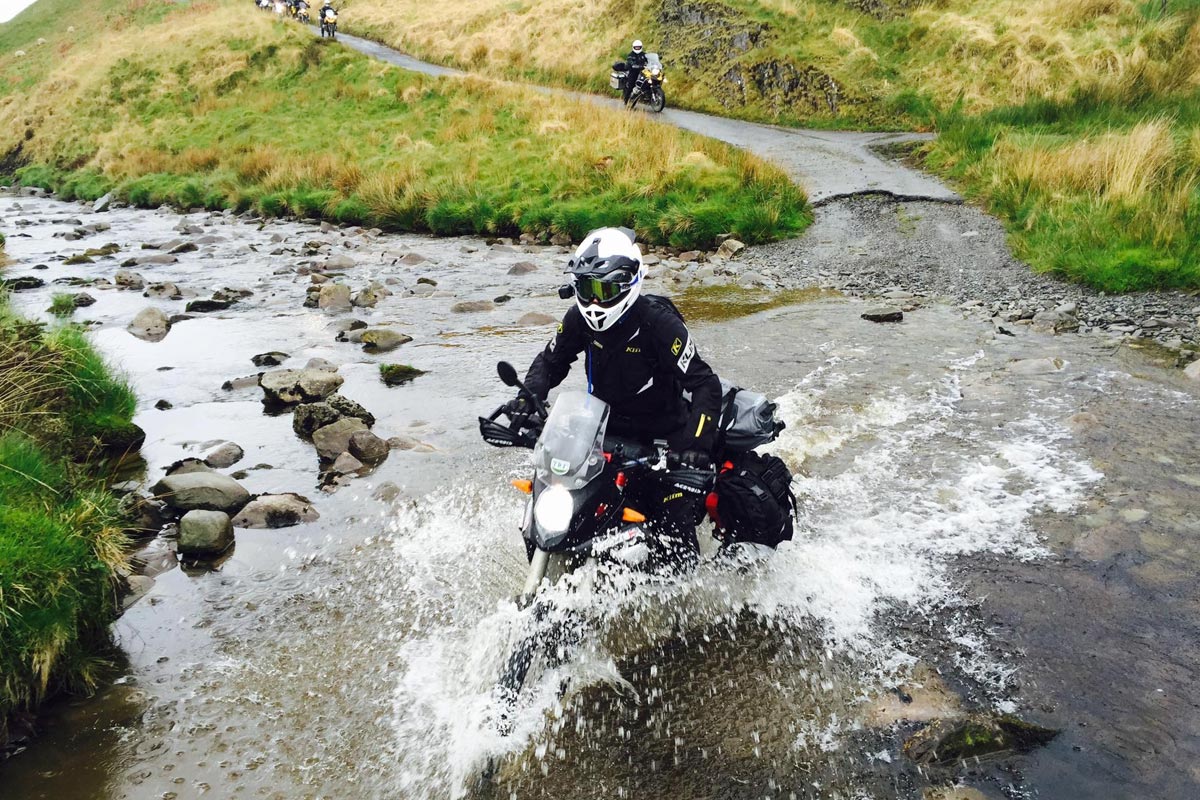 So I decided I needed something lighter. I'd circled the CCM GP450 a few times at bike shows, and I liked what it claimed to offer, but most of my biking needs were fulfilled by my Honda and my KTM 350 EXC - until now. The first step was to have a test ride, which brings me to caveat number one: the dealer network. Sparse would be a polite way of putting it. I live in north London and my nearest dealer is in Suffolk (The Adventure Bike Shop, run by Cliff). It's not exactly convenient, but it wasn't a deal breaker, so I trawled through all 180 pages of a single GP450 thread on the Adventure Rider forum to learn all I could, and booked a test ride. This brought to my attention caveats number two and three. Caveat two is that CCM is a small manufacturer with a similarly small development budget. This means that some design flaws slipped through and took a while to be addressed in the production process (to be fair, this happens with the likes of Honda, BMW and KTM too). The early bikes weren't as good as the later ones, and for me, this ruled out buying a used bike. Caveat number three is that the stock bike - fresh from the crate - still has some issues. The poor fuelling low in the rev range seems to be the worst of these. CCM provides a long list of options that can be fitted at the factory in Bolton. Among these is a performance pack, which includes a Power Commander, carbon exhaust and a plug that takes the bike from 40 bhp to around 50. The can and power plug aren't essential (you can have the PC on its own), but the Power Commander is essential if you want to smooth out the fuelling. Also essential is a bash guard, luggage frame (if you want to carry anything) and one or two other bits. All these additions brought the price up to around £10k. Which is a lot. I had to really like the bike…and I did. I immediately felt at home on it, so I placed my order and traded in my KTM.
The bike took over two months to arrive, so when it did I was keen to get riding. It took me just ten days to get it to its first service. On the trails, and with no luggage, it's much closer to the 350 EXC than it is to the Africa Twin. Surprisingly close, in fact. It skips over rocks, bumps and small logs without a fuss. I would like a little more low down power - popping the front wheel up is a real effort - but it does make for an easier ride (too much power can be hard work).
In preparation for Iceland, we all got together in Wales with our bikes fully loaded for some riding and camping. Of the twelve bikes, there were three GP450s, three big GSes, two 690 Enduros, an 1190r, a 640 Adventure, and a couple of others. I was very happy with my decision not to go with the Africa Twin. The conditions weren't easy and I have a lot of respect for the riders of the two GSes that made it through all three days (the third GS rider gave up on day two - his bike a little worse for wear). The GP450s performed brilliantly. Despite their light weight (125kg dry), luggage seems to make little difference to how they ride. Mine did stall quite a bit - which wasn't totally my fault as it stalled a couple of times in neutral - but I've since increased the idle speed, so that should be okay now. And they're reluctant to re-start when they're in gear. And refuelling takes a while, as they have three tanks and the petrol is slow to filter through. And the tanks are a bugger to get back on if you have to remove them. And the seat to peg distance could be a bit further. And carbon end can is obnoxiously loud even with the baffle in. So let's consider these niggles caveat four. Caveat five is my last one, but it's biggie. You can no longer buy the bike (new, at least). The engine - designed by BMW - isn't being changed to meet the Euro 4 standard, and the bonded frame is designed around the engine. CCM has already sold all the bikes it will make this year, so that's it. A massive shame. And it does make me worry about the availability of parts, too. This week I'll be taking the bike up to Immingham and putting it in a container bound for Iceland. I'll be following it a couple of weeks later, and then the real test begins. I'm fully expecting to love the bike just as much when I return. I'll let you know if I don't."