Members of Tyne and Wear & Teesdale TRF recently celebrated their group's maiden year with a successful weekend of guided riding around the North Yorkshire Moors.
Here's what their Rights of Road Officer – Steve Doy – had to say about it all:
The camping weekend began when I met up with the legendary Bob Moores on the Friday lunch time, Bob had already set up his caravan and was off loading his bike when I arrived (Bob attends many camping events and acts as site security as well as riding).  Our guests started to arrive mid-afternoon, so we checked them in and put them into four groups:
One expert Group led by Paul Robson.
Two intermediate groups led by Adam Mineham & Anthony Knight, and Stephen Doy.
One steady/Easy Group led by John Hewitson.
By early evening most had arrived with a few apologies from people who couldn't make it.  It rained most of the night but it had stopped by the time of the rider brief at 08:30 on the Saturday morning. The plan was for riders to start leaving at 09:00, staggered as most groups were heading for Rutland Rigg to start the days riding.
Saturday:
Numbered posts that were also colour coded had been pegged out as meeting points for each group allowing the run leaders to do their own briefing before riding. Paul's group left first heading towards Scarborough, next away was John heading for Stokesley, then Adam & Anthony off to Whitby and finally my group heading to Scarborough.
My group hadn't got to the end of the first lane before the first breakdown – a KTM with electrical issues (which had just come back from a KTM dealer with a clean bill of health!).  They agreed for us to carry on while the two friends took the bike back to the camp site.  We continued on 55 miles to lunch and fuel at the (biker friendly) Flask filling station where Tim and Andy who had the break down earlier managed to meet up with us to enjoy the rest of the afternoon.
After lunch we had our first puncture of the weekend, plenty of banter and helpful suggestions for the most effective way to repair a puncture in the middle of nowhere with limited equipment (apparently lube is the answer to a successful tyre change).  The job was done and the run back to the campsite completed successfully.
Paul's Group headed towards Scarborough on a similar route but half an hour ahead of us – plenty of overgrown lanes with the hidden ruts we all love!  The Famous 'The Good' was in fact good and passed with ease, though Paul was attacked by a bramble branch then later had an off (very unusual for him).
Adam & Anthony's Group rode to Whitby via Rutland Rigg doing challenging lanes along the way.  Both Adam and Anthony rose to the challenge themselves leading runs on the camping weekend – Thanks Guys for all your efforts, you did an excellent job.
John the gentleman of our group had the job of a steady away run, and with fish & chips, ice creams and cream teas he spoilt his group, though one rider damaged his throttle cable after falling off so John had to guide him safely back to the camp site.  Thanks John!
No TRF event would be complete without a raffle on the Saturday night – thanks to our sponsors:
Bikesport Newcastle, SNC Darlington, M & S Newcastle, QLC Loft Conversions and everyone else who brought prizes.
Saturday night was very wet both inside and out, the rain hammered down outside but most people took cover in the pub with some even sleeping in the local village hall to escape the rain.  The Feversham Arms put on breakfast both days for any campers who preferred not to cook, so Sunday started with a breakfast then down to the camp field for a 09:00 start.
Sunday:
We had previously decided to swap Adam & Anthony's Group around with mine to give all riders an experience of what we had to offer on the moors, which worked well as the run leaders had the routes off to a T.
'The Good' proved to be more challenging than Saturday, with one bike stuck – though we were soon through it and on our way again.
Paul headed West for an easier day, though Sheepwash proved to be a Sunday morning challenge.  They finished the day with a seized engine but everyone agreeing that they'd be back next year.
John's Group had another good day, though one rider had their second puncture of the weekend but managed to get to the Flask garage for its repair – thanks to the Flask for the loan of a few tools!  He then managed to seize his engine near the end of the ride, though the rest thoroughly enjoyed the day and made it back to camp without issue.
We would like to thank everyone who attended or helped towards the event coming together.  From the feedback received we will be planning another event next year.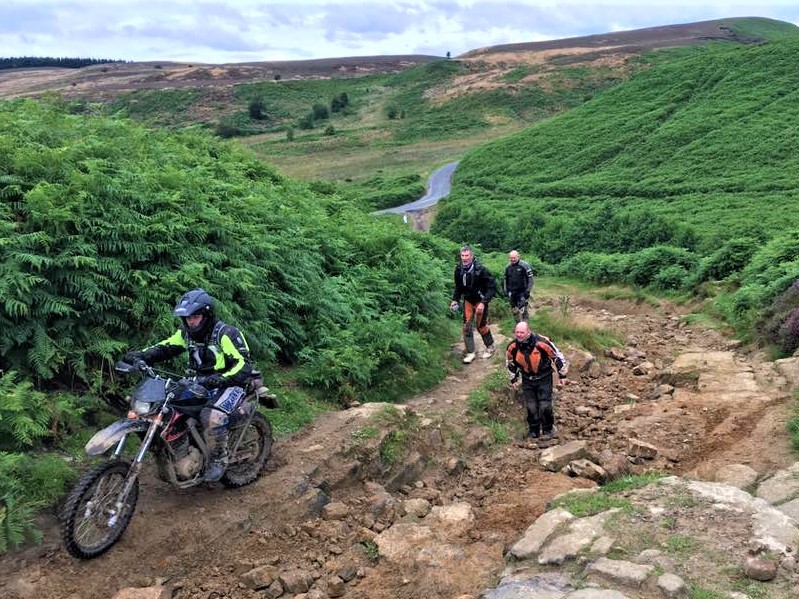 A very slippery 'Sheepwash', photographed by Paul Robson.

Guided tours are a great way to make new friends and boost your group's finances.
If your idea falls within our Promoted Events Policy then please contact the directors to discuss it further.