Members of North Wales TRF donated £1,045 to the Wales Air Ambulance Charity during August's Llangollen International Motorcycle Festival, ensuring that people coming to harm in remote communities are given the best chance of survival.
The money was raised over three weekends of trail riding, with the first taking place in March at The Green Inn at Llangedwyn, which was organised by TRF stalwart Neil 'Timpo' Thompson.
The second event was organised by club chairman Eddie Evans from the popular destination of Rhayader, with the third event hosting members of the Devon and Somerset TRF groups who were lead out of Dolgellau by Mark Hollingsworth.
The events were attended by local riders, guests from all over the UK and visitors from as far afield as Belgium and Holland, with Eddie & Timpo arranging guided rides for around 150 riders.
Of the choice of beneficiary, Timpo said:
"The Welsh Air Ambulance is a vital tool to reach casualties in the more remote areas of Wales.  Our donations are the least we could do to help keep the service flying".
Eddie added:
"It is great to be able to give this donation to such a worthy cause. Whilst hoping we never need their service, there is nothing more reassuring than to hear – when needed – that the air ambulance is actually on its way".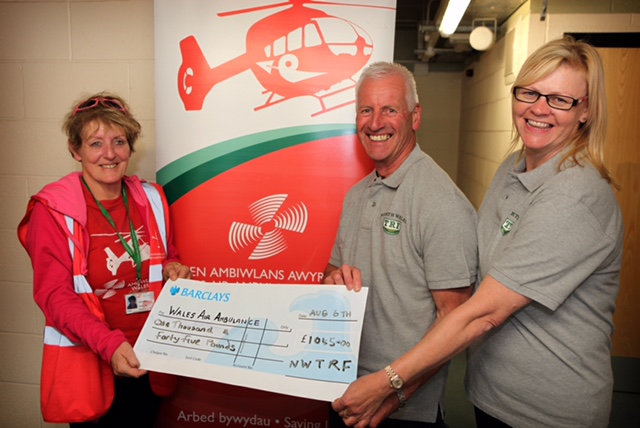 NWTRF Treasurer Mike Rowlands and Amanda Davidson presenting the cheque to Alyson Winn, Wales Air Ambulance Charity.
Has your TRF group supported a worthwhile cause recently?
If so, please let us know!