The first motorcycle ride took place 150 years ago.  Here's what we know:
Two models are known to have been constructed in 1867 – the French Michaux-Perreaux steam velocipede and the American Roper steam velocipede, though Sylvester Roper's machine is less likely to have been the first.
Both models predate Daimler's internal combustion engine-powered Reitwagen by eighteen years.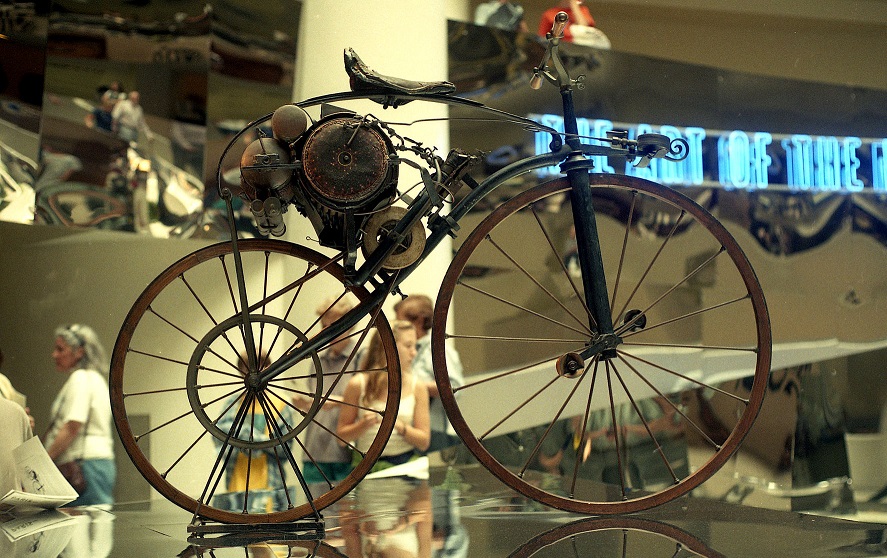 The 1867 Michaux-Perraux steam velocipède.  Note the crude suspension!  (LUCC)
A lack of swinging arm, body panels and electrics helped Pierre Michaux's iron frame weigh in at a commendable 62kg when accouplé with Louis-Guillaume Perreaux's 30cc 2hp steam engine.
Its sluggish 9mph top speed (later 19mph) would have ensured a fairly safe first crash, which – due to the nature of nineteenth-century roads – could only have happened on dirt or stone (also making the machine the first trail bike, though equally also the first of any type of bike).
Here are five other things with sesquicentennial anniversaries this year:
1.  Canada
The Dominion of Canada was founded long before the Trans-Canada Adventure Trail.
2.  The Blue Danube Waltz
Johann Strauss' The Blue Danube commendably compliments calamitous cycling.
3.  Michael Faraday's Death
Michael Faraday invented the electric motor – Touché Tesla!

4.  Sakichi Toyoda's Birthday
Toyota are yet to market a motorcycle.  The i-ROAD is their closest effort to date.
5.  The First Race
The first trial of speed probably coincided with two motorcyclists meeting one another.