Long-time member Marianne Walford recently led two rides through Mid-Wales for owners of big bikes.  Here's what she had to say:
Separately I was contacted by Mark who booked a Wednesday at the end of September, and Ross who booked a Wednesday in early October.  I hoped for good weather – always a bit of a gamble in Wales!
Mark rides a CRF1000L Africa Twin and his friend Karl has a Triumph Explorer.  They were happy for more riders to join them, so I advertised the day in the TRF Facebook group.  An interesting selection of bikes came forward:  Mario on his GS1200, Adam on an F650GS, Andy on an Aprilia Pegaso which he has owned a couple of years but hardly ridden at all, Bill on a CRF250L who is returning to riding after health problems, and Colin on a Moto Guzzi Stelvio NTX1200.
Ross and Greg both rode 1200GS, while Martin and Jim used their Yamaha TTR600.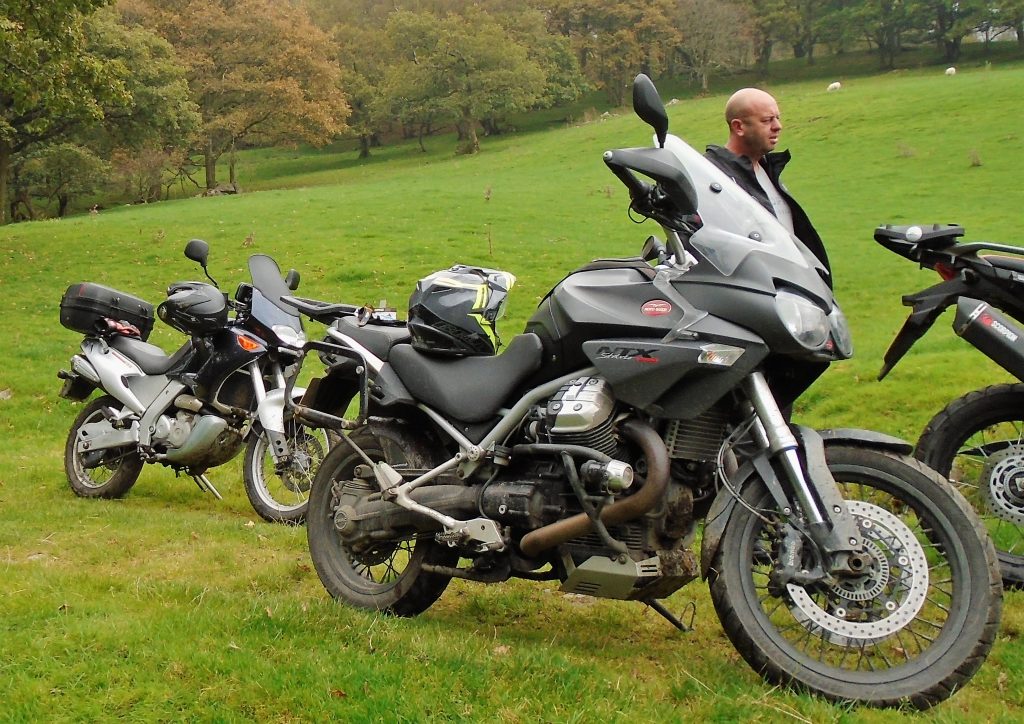 A brace of adventurous Italians – An Aprilia Pegaso 650 & Moto Guzzi Stelvio NTX1200.
Both groups followed a similar route, starting with some single width tarmac lanes.  We passed through the village of Aberllefenni where the remnants of the slate mine can be seen.  A couple of miles further on we reached the high point where photographers gather on a nice day to get pictures of the training planes flying the "Mach loop" below them.
The hill down brought the first bits of road with sheep poo and the need to be a bit careful!  A few miles further on, there was even more need to be careful as we rode down a little used lane with a liberal coating of pine needles, leaves, mud and other debris.  This was the first of many lanes like this!   Then we took it a bit more rural, on to a gravel lane with a few puddles and surface mud and grass.  I'm glad to say everyone survived intact, although there was some talk of slides and near misses!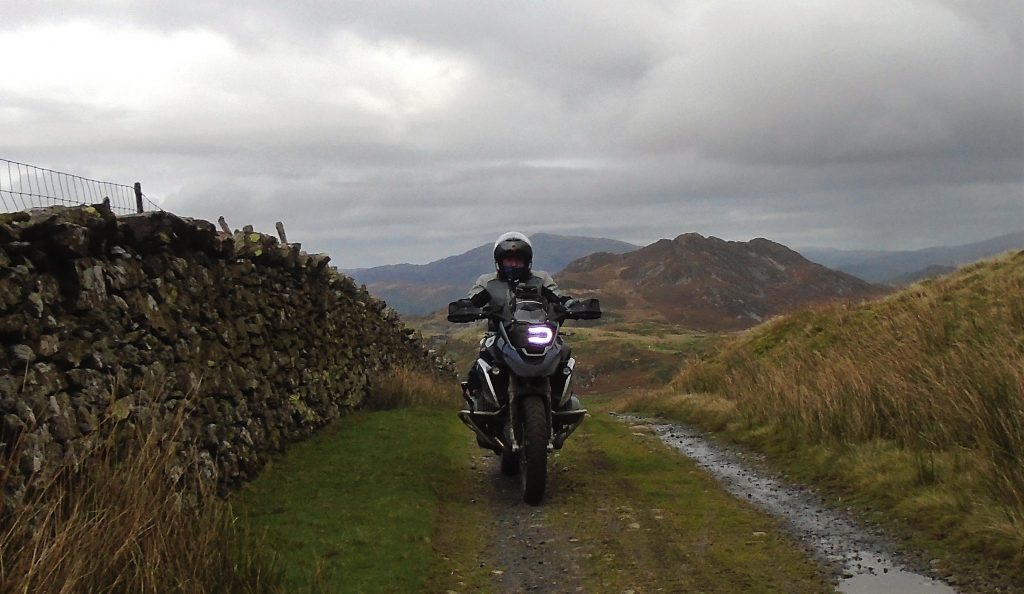 Ross rides a very scenic road on his BMW 1200GS
I took slightly different routes from here on, as there had been torrential rain the day before Ross's group's day, making the next green lane with a grass and mud surface a bit too risky.  Before Mark's group it had been dry, so with the hope that the mud and grass would not be too slippery, I led along the green lane.  It was quite a challenge, not helped by the cows in the field making their own contributions on the surface.  By the time we reached the end, those who smoked were in need of a steadying cigarette!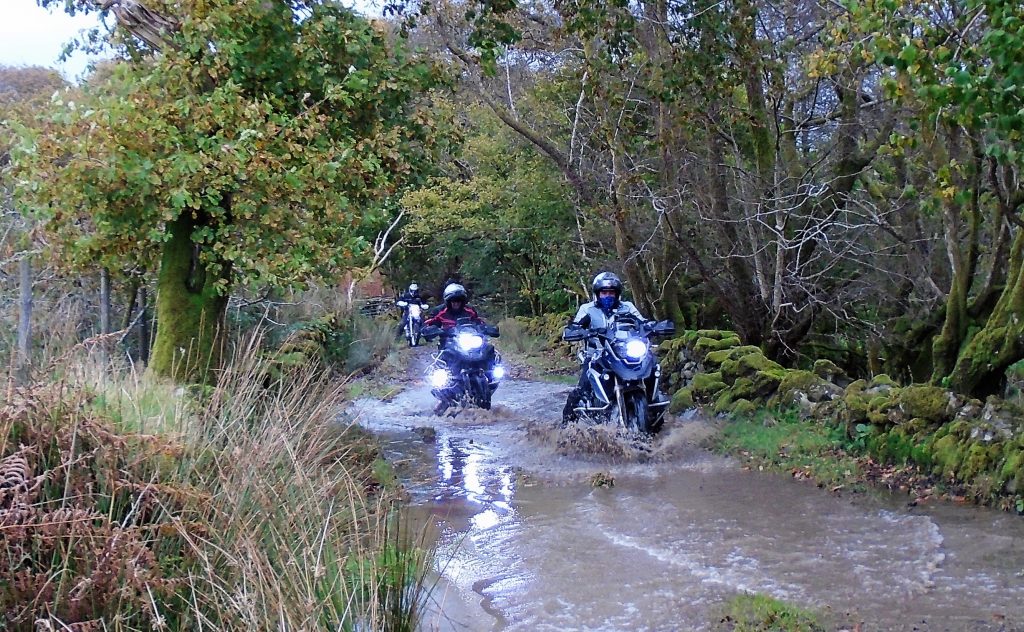 Greg & Ross try to keep their feet dry whilst riding through a puddle.
Both groups continued the morning riding a mixture of tarmac and gravel unclassified roads.  Mark's group had lunch at the Coed-y-Brenin Visitor Centre, while Ross and friends took in the scenic view while eating at Barmouth.  Ross's group crossed the Fairbourne Bridge and amazingly the walkers and cyclists were all friendly and smiling until the last couple, who frowned and shook their heads disapprovingly.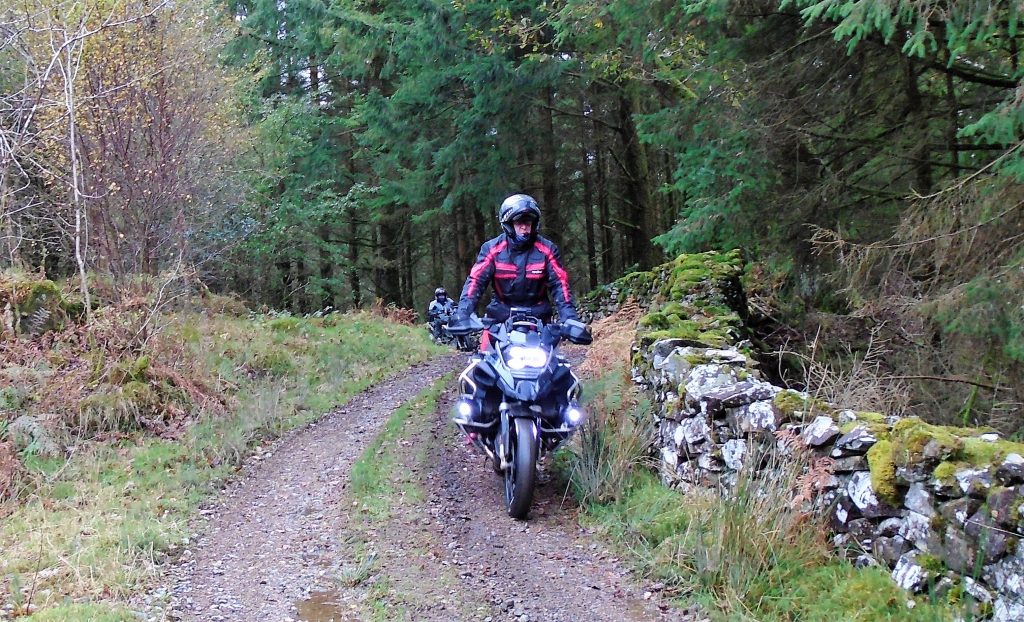 Greg sticks to the stone for maximum traction.
Both groups rode up the amazingly steep hill from Arthog, up towards the ancient road, Ffordd Ddu.  This lane has suffered from a fair bit of water damage causing gullies in the gravel surface and some deep puddles.  The first couple of miles were a challenge, but once we reached the top of the hill, the gravel road was in better condition.  We dropped down on to the plain inland from Tywyn.  In September, the rain came sweeping in on Mark's group, and when I heard the whistle of the Tallyllyn steam train, it seemed a good idea to see if the café at Aberynolwyn Station was still open (it was).  We were a bit cheeky and rode past the "no cars past this point" sign – after all, we weren't cars!  We were able to park on the station itself and enjoy shelter from the rain and some very good rocky road cake!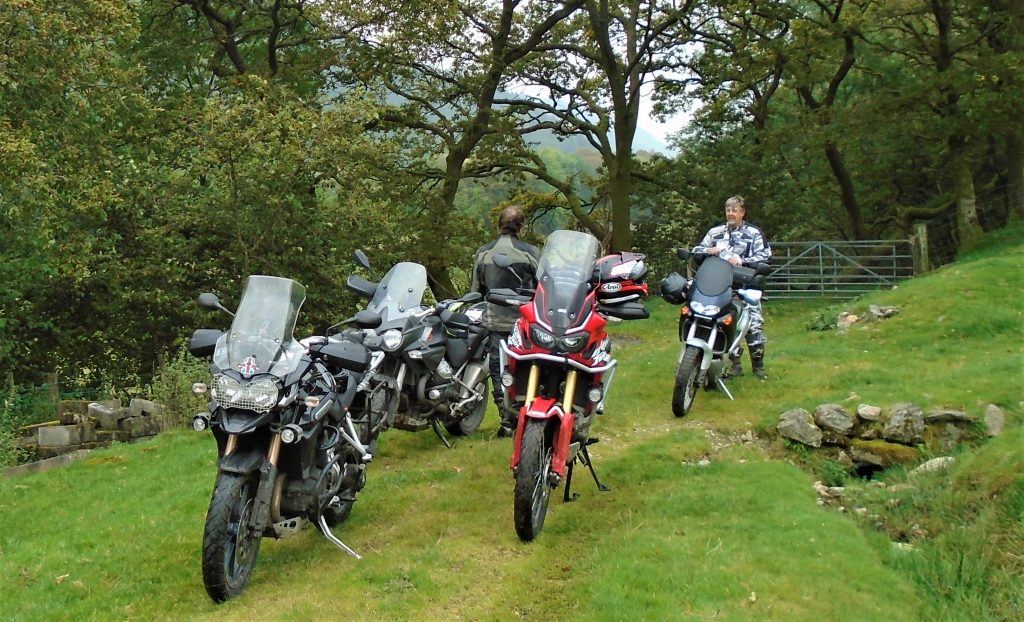 Karl's Triumph Explorer looks quite squat next to Mark's CRF1000L Africa Twin.
Only one challenge remained, and that was the ford on the back lane at Tal-y-llyn.  It was a little deeper for Ross's group.  Despite the very wet finish to Mark's group's day and the occasionally shower on Ross's group, all riders had remained upright and coped with the challenges of riding bigger bikes on road or trail tyres on a selection of road surfaces.  The winter isn't the best time to be planning such rides, but from next April onwards, maybe we will set aside the first Wednesday of the month to be a big bike ride.
Are you interested in a big bike tour of Mid-Wales?
Marianne offers free guided tours for TRF members on selected days.
Visit her website – Trail Rides Wales – for further information.