Honda's XR200 was a seminal motorcycle which remains popular all around the world.
Devon TRF member Sean Comber tells us about his old girl through gritted teeth:
Trail riding is not a competitive sport – there may be a bit of edge to riding a long rut 'feet up' or simply not falling off when your fellow riders have eaten dirt but that is as far as it goes, so I guess the question is do you really need a competition bike to ride lanes?
Mile high seats, massive upside down forks, substantial monoshocks, highly tuned engines with service intervals measured in hours make everything so easy.  They encourage speed (now there's a first – Ed.) and provide performance at the expense of longevity – which is something that should be at the top of anyone's list of trail bike requirements, given that if the bike packs up half way through the day, it's not simply a case of chucking it in the back of the van but often a logistical nightmare of begging someone for a tow (you Devon lot sound a right uncharitable bunch – my group would have offered).
I say these things as I've been lucky enough to get my hands on a venerable 37 year old Honda XR200, which back in the day was considered a 'competition' enduro machine.  A 195cc, air cooled two valve overhead cam engine with twin shocks and spindly forks (which look puny on even a modern mountain bike).
The sales blurb details inverted gas charged dampers on the rear and leading axle front forks with 216mm of "bump busting" travel – ooooh!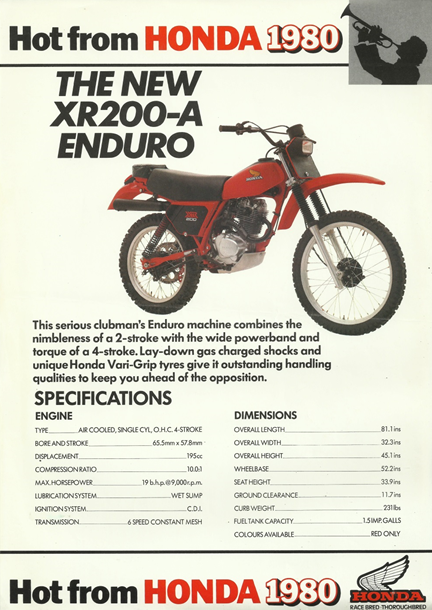 1980 wasn't exactly a 'hot' year for Britain.  This little 'scrapper' cheered many people up.
Having recently changed the notchy head bearing ball bearing in very worn races for new fangled tapered jobbies, I removed the forks, gave them a few compressions and boiiinnnggg!  I don't think rebound damping had been invented by the early 80's.  Any oil in the forks is there to stop the springs rusting me thinks!
The tyres on the XR are a funky pattern, well worn Kenda variety offering little in the way of grip on anything that may be termed 'greasy' (your choice, surely?).  Kick start only means no battery to run out, and – if you drown her (and after the drying out process is complete) – she should burst back into life with a bit of leg work.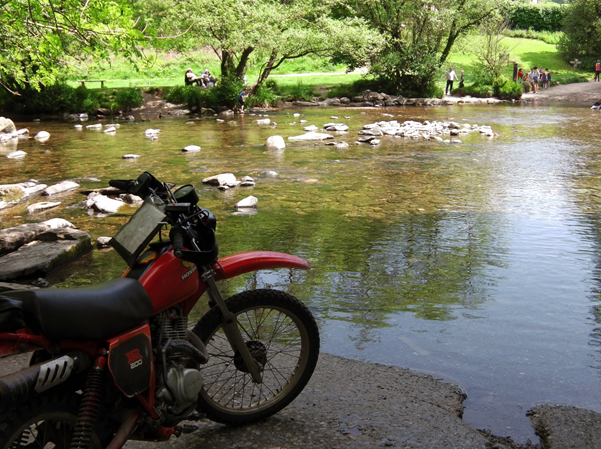 Every ford presents an opportunity for leg work.  This one looks safe enough, thankfully.

I'm still 'learning' the guiles of starting her, but I'm close to a single kick now and if she does not light up first go then one or two more (!) freshly cleaned spark plugs will get things moving, with access to the plug being easy peasy unlike many modern bikes which require the removal of rad shrouds, tank, etc. (presumably keeping the plug protected from crud).
What does this little jewel of a trail bike offer?  Well, a wet weight of about 100kg, a 83cm seat height, many inches of foam under your derriere for all day riding comfort, an unburstable little engine with just enough tractable power, a quiet exhaust, simple but (sort of) effective drum brakes, no pumps or fans for cooling, no hydraulics to leak and absolutely nothing on the bike that does not need to be there – all with Honda reliability.
The riding experience is old school – the short wheelbase makes the steering quick, but not unmanageable.  Old bikes always seemed to be designed with steering geometry set up to be pretty lazy.  You bounce from stone to stone, feeling the lane under your wheels while the tyres slither along enjoying the view.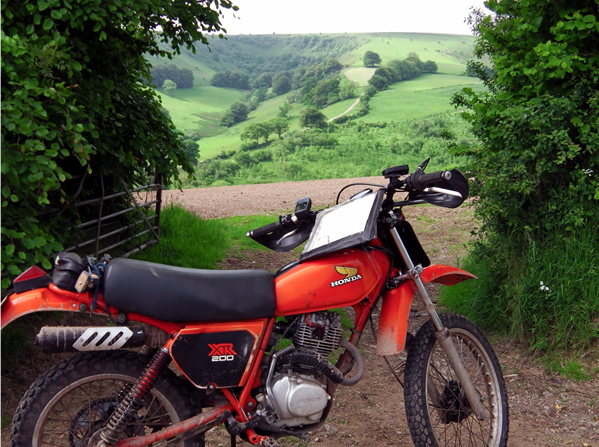 What a view!  Devon is home to some of the best green roads in the country.
When the going gets tough even a short arse like me can put both feet down or lift the little scrapper off the deck or out of a rut.  She has a very light front end and the low gearing allows plenty of 'fun' – lifting the front wheel with a little help of undulations in the lane, enabling me to look for the more challenging line up a technical section because the bike is so 'flickable'.
The debate over the perfect bike endures and everyone has their favourite based on personal bias, brand loyalty, economics, etc. (luddism?) which is why you rarely ride with folk using the same model within a group.  If you fancy seeing the lanes that you normally ride through a different set of eyes then consider getting an olde world trail bike from the 70s or early 80s – I can guarantee it'll put a smile on your face.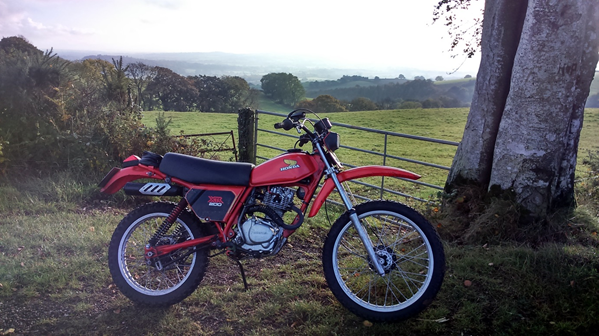 Sean's fine example of trail riding simplicity.
Do you have an older bike tucked away?
Should older bikes be ridden or hidden?
Exercise your right of reply below!