Thank you for joining the club. Your membership helps us conserve green roads. We're sure you want to get out and explore the UK on your trail bike as soon as possible. The TRF is a great place to get started with thousands of passionate members all over the country. Much of the TRF's work is done on a local level by volunteers. This guide will help you get connected with local people and resources that can help you get out on the trails...
Step 1: Connect with your local group
The TRF is at its heart a group of volunteers who a passionate about trail riding. Finding out where you can ride can be a time consuming and sometimes confusing task. Fortunately there are almost 50 local groups all over England and Wales so you're never that far from the help you might be looking for. The start of your TRF journey should always be to connect with your local group and say hello. Almost all groups have a monthly meeting where you can go and find out what's going on in your area, and many also have their own Facebook Groups where members arrange ride outs and share pics, stories and helpful info.
Use the map
to find your nearest group.
Step 2: Connect on Facebook
You will find many TRF Groups on Facebook, it's a great way for members to connect and share local info. Use the Facebook search function to find your nearest group. Some of the Facebook Groups are 'private' and will require proof of your TRF membership, just follow any instructions you get when you request to join. There is also a
TRF Trail Facebook Group
that encourages members from all over the country to connect.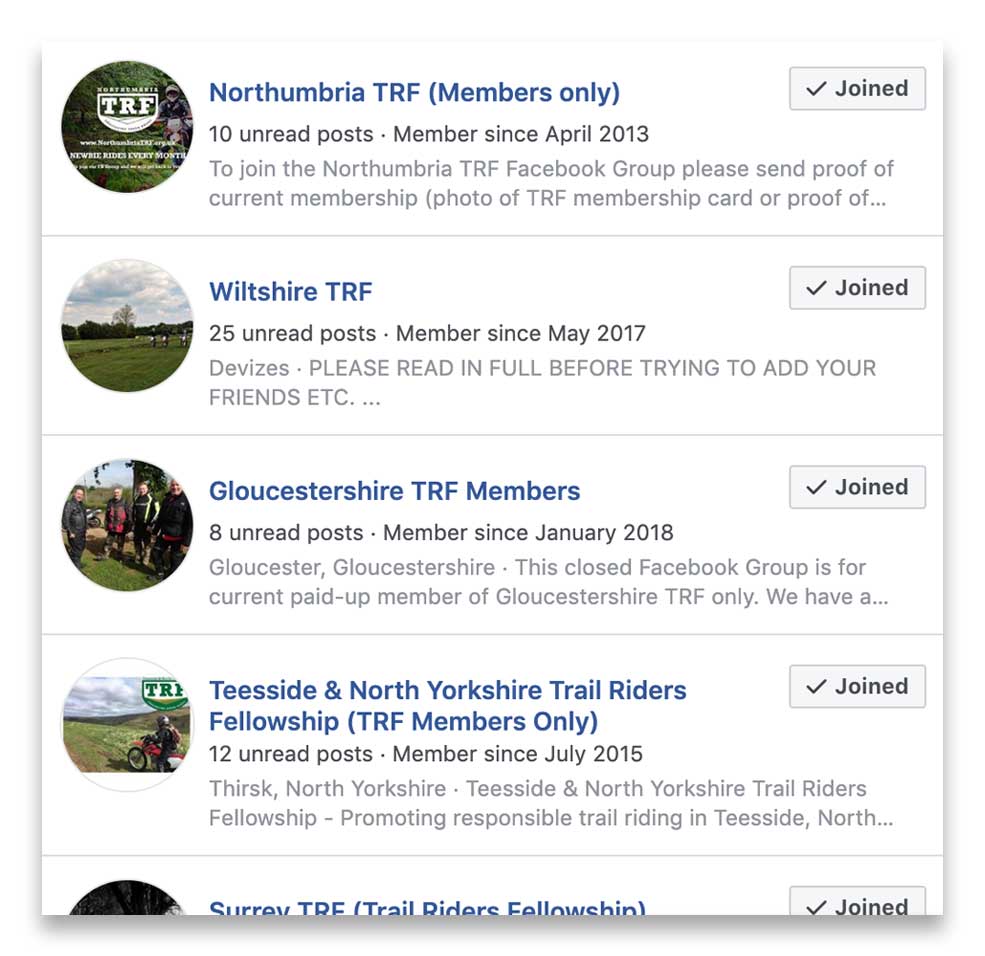 Step 3: Watch our beginners films
We have a series of films that help show what beginners can expect when they join the TRF. You can
watch them here
along with plenty of other helpful info about getting started trail riding.
Step 4: Improve your skills
If you have never ridden a trail bike before be prepared to re-learn the basics! Just because you can ride road really doesn't mean you can ride dirt. Fortunately the TRF is a great place to learn. You'll pick up some basics whilst riding out with other members, but if you want a little more attention and space then TRF training schemes exist to help. You can
find out more here
(and get special discounts) as well as by asking your local group what training exists in your local area.
Step 5: Get involved in an event
TRF local groups put on events all over the country throughout the year. They are a fantastic way to explore new areas and meet like minded riders. The riding in the UK is very diverse, from hard rocky trails to open farmland, from clay to limestone. When you sign up to a TRF event you are able to experience this diversity by tapping into the local knowledge and generosity of that local TRF group.
Find out more and get signed up here
.
Step 6: TRF Discounts
Joining the TRF gives you access to a wide range of discounts offered by providers of trail riding gear and experiences.
Visit our discounts page
to find out more and take advantage of some of the great offers to help you get kitted out.